Our Famous
Waterfall Methodology
For many years digital projects were designed and developed in the waterfall methodology. In this approach, each stage of the process takes place when the previous one is finished. The waterfall process starts with deep analysis, then it's time to design, develop, and conduct QA tests, and after all, you go live, fix bugs after the release and... the job is done. This sounds logic and for some projects, this might be the most accurate way of project execution. But for others, it might not. Especially when it comes to working with a complex product.
The waterfall approach is associated with a step by step activities in the project, a more formal way of organizing the workflow. A characteristic aspect of this approach is the fixed scope in the form of documentation that is approved by decision makers. This can work in a stable market, but there is always a risk that the longer a product is developed the more the surrounding environment is changed. The problem appears when you revise your project and decide to make some modifications. It requires taking a step back and making changes both to the project documentation and in the code. Moreover, the time of development is significantly prolonged. As a result, you end with a digital product that is coherent with documentation but is out of date and needs more adjustment work.
Project Based
Service Plan
If you have a single mission to accomplish with a specific deadline to meet, starting with a project may work best for you. Each project runs through each stage of our Design Method.
Our Fabulous
Agile Methodology
In this approach, teams are more cross-functional and self-organized. There is less "paperwork" and the decision-making process is much faster. When it comes to the development phase, it is done in an evolutionary way as the product is not built at once. The process of building the app is divided into smaller parts - iterations. After each iteration (called sprint), both the client and the team can see not only the progress of work but also the result of efforts. Such a check-up helps to plan the tasks for the next iteration. What's important if any solution or feature needs to be changed, it will be also included in sprint planning. Moreover, a client can react to what is happening on the market and make necessary modifications with less severe consequences for his budget. This is how Agile methodologies "tame the change" and make it is less costly than in a waterfall fixed scope.
Exchanging ideas and knowledge among team members has become more fluent and less formal. This way of cooperation in multidisciplinary teams is more effective and creative. When you gather people who represent different fields and who have diverse knowledge and background they will look at the problem from different perspectives. This new approach assumes that this group of people collaborate through the whole process. In reality, there are no strict phases of the product development and input of designers, developers, testers and other team members is crucial through the whole process.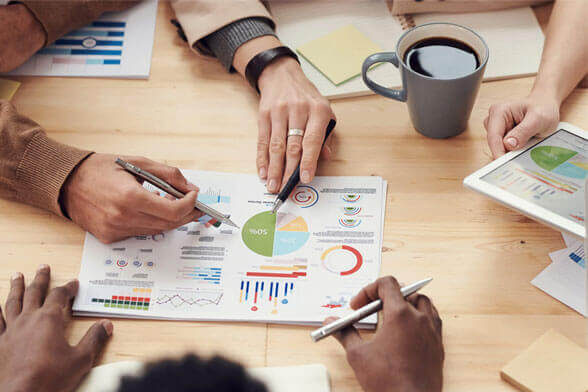 Subscription
Service Plan
The best fit if you are growing fast and have many needs. Plug us in as your internal UX team and we'll help prioritize your projects and marketing goals on a daily basis.